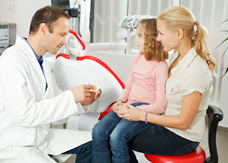 Did you know that the care you receive from your family dentist in Park Slope is equally as important as your brushing and flossing habits? You need a great dentist by your side over the years to protect your oral health from damage while also providing the comprehensive services you need to ensure that your smile stays healthy and beautiful for a lifetime. Finding that perfect dentist can be a challenge because not all will meet your needs. To ensure that you make a wise decision, there are a few factors to keep in mind.

1. Look at Qualifications and Accreditations
The services that a dentist in Park Slope can provide are supported by their qualifications. In addition to earning their dental degree, look for one who has also completed additional training to offer a wider range of services. Dentists who are qualified and reputable will also have accreditations from various dental organizations, such as the American Dental Association.
2. Look for Reviews and Recommendations
Now, you can learn a lot about a dental team by reading online reviews and asking for recommendations. Take the time to look for reviews of the dentists that you are considering to make sure that they are the right fit for your family. In addition, look at their Smile Gallery to look at proof of their results.
3. Comprehensive Services
Over the years, your oral health needs are going to change. You need a dentist who can meet those needs both today and in the future. Be sure that the dentist you choose offers more than just the basic services to prevent you from having to be referred to another location. With areas of specialty, like dental implants or periodontal therapy, you can benefit from one amazing dental team, even as your oral health needs change.
4. Modern Technology
Dental advancements constantly change the level of care that you receive. Not only do they provide more accurate and precise diagnosis and treatments, but they also promote a comfortable experience. Look for a dentist who embraces technological advancements, like digital x-rays and impressions.
5. Affordability
All too often, people must put their dental care on hold due to finances. To keep the cost of services affordable, choose a dentist who will work with your insurance company to maximize the value of your policy. Also, consider one who accepts payment options, like CareCredit.
Choose the Best Dentist Today
When it comes to the health of your teeth and gums, you should not have to compromise with the care you receive. Take the time to make a wise decision to invest in your oral health and satisfaction.
About Dr. Frank J. Sapienza
Dr. Frank J. Sapienza is a second-generation dentist who is supported by more than 30 years of experience. Due to his vast training and qualifications, he provides complete services through all stages of life. By embracing the latest technological advancements, he provides superior services that cater to your comfort. If you need a new dentist, benefit from the preferred choice in the community. Call The Dental Spa of New York today to schedule your consultation.