Emergency Dentist – Park Slope, NY
Urgent Dental Care in a High-Tech, Relaxing Office
No one ever expects a dental emergency to happen to them, but they're much more common than you might have thought. In fact, one out of every six Americans will face one each year. When such an unexpected situation strikes, it's important to know who to call. Your emergency dentist in Park Slope, Dr. Frank J. Sapienza, makes it a priority to see emergency patients as soon as possible. Plus, our spa-like office environment is much more soothing than a traditional dental practice, helping you achieve peace of mind during this stressful situation. If you find yourself with a sudden dental emergency, please give us a call.
How to Handle Dental Emergencies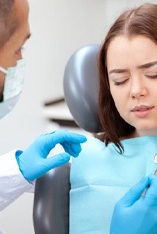 Sometimes, a dental emergency occurs out of nowhere, like if you sustain sudden trauma to the face or mouth. Other times, an emergency can develop over time, like in the case of a gradually worsening cavity. Whatever the case may be, our emergency dental office in Park Slope is prepared to handle everything. As soon as the incident occurs, call us to schedule an urgent appointment. In the meantime, here are some tips for handling common dental emergencies.
Toothaches
Tooth pain might not seem like a big deal, but it often indicates a cavity or infection. If this is the case, Dr. Sapienza may need to perform a root canal to eliminate the infection and save the tooth. Rest assured that we offer ample amenities to ensure you're comfortable during this procedure. Until then, take an over-the-counter pain reliever as needed.
Chipped/Broken Tooth
Collect any pieces of the tooth that you can and bring them to our office in a securely lidded container. Place a piece of sugar-free gum or orthodontic wax over the remaining tooth to prevent it from injuring the soft tissues in your mouth. OTC pain medications or a cold compress can reduce pain and swelling.
Knocked-Out Tooth
If you act quickly enough, Dr. Sapienza may be able to save your tooth. Hold the tooth by its crown and rinse it off. Do NOT dry it off. Instead, store it in your cheek pocket, under your tongue, or in a container of milk. If we can't save the tooth, we'll go over your options for replacing it.
Lost Filling/Crown
Save the restoration and avoid chewing with the tooth until we can permanently reattach it. If the area is sensitive or painful, taking a store-bought pain reliever can help.
How to Prevent Dental Emergencies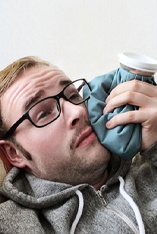 While you can't always predict when a dental emergency in Park Slope is going to occur, you can greatly minimize your risk by taking the following precautions:
Keeping up with a daily routine of brushing and flossing
Visiting us twice a year for checkups and cleanings
Wearing a mouthguard when playing sports and a nightguard if you grind your teeth at night
Refraining from chewing on inedible objects
The Cost of Treating Dental Emergencies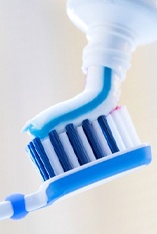 There is no fixed cost of emergency dental care because treatment can vary wildly from patient to patient. However, our team aims to keep your care affordable by working with your dental insurance. We are in-network with a variety of popular PPO plans and will handle all of the paperwork on your behalf. If you need additional help financing your treatment, we also accept low-to-no interest loans through CareCredit.
Dental Emergency FAQs
Do you want to know more about dental emergencies and how to respond? Our expert staff at The Dental Spa of New York have answered some of the most common questions about emergency dentistry below. We hope you find this information valuable and enlightening. If you have any additional questions or feel you may be in need of urgent dental care, do not hesitate to contact our office!
Will My Toothache Go Away on Its Own?
Even though a sore neck from a bad night's sleep might go away on its own, dental issues usually do not magically disappear. Instead, untreated toothaches, oral infections and other dental problems are likely to worsen over time and may even cause permanent damage. That is why it is so important that you immediately contact an emergency dentist in Park Slope whenever you suffer from a dental injury or infection. If you put off a visit to the dentist now in the hope that the problem will just go away, you may end up needing more extensive – and expensive – dental treatment in the future.
Should I Go to the Emergency Room?
In many cases, local emergency room staff may not have the specialized tools or knowledge to effectively respond to a dental emergency. For this reason, we recommend patients with a dental injury or infection contact an emergency dentist instead of heading to the nearest emergency room. If you do require medical attention, an experienced dentist will be able to quickly let you know after hearing about your specific circumstances.
Any life-threatening injuries, difficulty swallowing or breathing, or severe physical trauma such as a fractured or dislocated jaw should be first addressed medically at an emergency room or doctor's office.
Which Over-the-Counter Pain Medication Should I Take?
Taking over-the-counter medication can help temporarily ease the pain caused by a dental emergency. If you have suffered cuts inside your mouth and are bleeding, choose acetaminophen over aspirin or ibuprofen. Acetaminophen does not thin the blood like these other common pain medications. Finally, remember that although over-the-counter pain medication can help, it is not a substitute for professional dental care. Even if painful symptoms subside for a few hours, you should still contact a dentist.
How Can I Prepare a Dental Emergency First Aid Kit?
Keeping a small first aid kit nearby can help you take action quickly in case of a dental emergency. This kit should be prepared specifically to address injuries to the mouth and can be stored in your car, at the office, or even in your purse. Here are the essential items for every dental emergency first aid kit:
Latex-free gloves
Travel-size bottle of painkillers
Individually wrapped gauze pads
Small container with a secure lid
Saline rinse solution
Contact information for an emergency dentist in Park Slope
Does My Dental Insurance Cover Dental Emergencies?
Most dental insurance plans provide some coverage for dental emergency situations. For example, dental insurance usually covers anywhere between 50% to 80% of the cost of root canal therapy or extractions. Both of these services are commonly associated with dental emergencies.
It's important to note that every plan is different, so you should always check with your insurance provider before committing to treatment. Our team will be happy to help you understand your individual insurance coverage and maximize your benefits in the event of a dental emergency.