Dentures – Park Slope, NY
Rebuild the Beautiful Smile You Deserve
Did you know statistics show people with no teeth don't have the same lifespan as those with a complete smile? One or more missing teeth can negatively affect your diet, which can lead to nutritional deficiencies because some foods are too difficult to chew. Not to mention, your words can sound slurred, making it difficult to communicate clearly and confidently. Your speech and diet aren't the only aspects of your life affected by an incomplete smile. You don't have to allow missing teeth to impact your quality of life. Dr. Sapienza provides the solutions you need to rebuild a beautiful, functional smile with high-quality dentures in Park Slope.
Who is a Good Candidate for Dentures?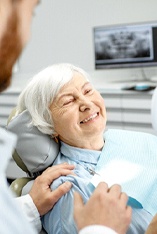 Patients who have lost all or most of their teeth are often candidates for dentures. Your dentist in Park Slope will examine your mouth to make sure your teeth and gums are healthy. Depending on the results of your consultation, your dentist will create a personalized plan. It's not uncommon for patients to need a little prep-work, such as tooth extractions or periodontal therapy. Although you may require additional treatments, it ensures your new smile will have a healthy foundation.
Types of Dentures
Dental prosthetics have changed quite a bit over the years. Dr. Sapienza has remained at the forefront to offer the most advanced tooth replacement methods. You have more options than ever to restore your smile. Depending on your degree of tooth loss and preferences, you might be a candidate for:
Partial Dentures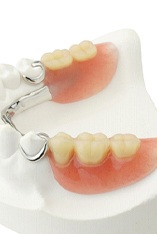 If you still have most of your teeth and they are healthy, you might be a candidate for a partial denture. It's an oral prosthesis that fills the space of your missing teeth using recreations attached to a gum-colored base. It will feature clips or clasps to use your remaining teeth to hold it in place. Although the teeth will be fake, they will seamlessly blend in with your smile.
Full Dentures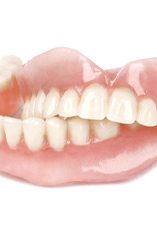 If you've lost all your natural teeth, a full denture will restore your smile. Our office uses state-of-the-art technology to craft a custom denture that will fit your mouth like a glove. It is held in place using suction or an adhesive, so you can laugh, eat, and speak without any worries.
Implant Dentures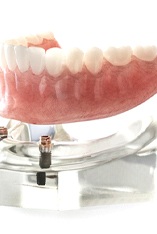 As an alternative to a traditional denture, you can anchor your new teeth in place using dental implants. Titanium posts will serve as new roots, securing your denture to your jawbone, so you'll never have to deal with slipping or irritation. You'll benefit from a nearly perfect replica of your real smile.
The Benefits of Dentures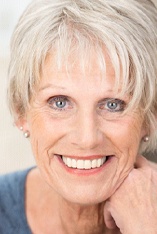 Tooth loss is more than just an aesthetic issue. It can compromise your oral and general health. Overall, dentures are an investment because you'll enjoy:
Comfortable, high-quality denture
Natural-looking results
Better oral functions
Younger appearance
Improved speech clarity
Healthier smile
Schedule Your Appointment
Dr. Sapienza and his team can provide you with the solutions to gain a confident smile. Contact our office today to schedule your consultation for dentures.