Park Slope Cosmetic Dentist
It's true—when you smile the whole world smiles with you. That's why
Dr. Sapienza and his team at The Dental Spa of New York are committed to helping patients have the most attractive smile possible. Of course, we want you to have strong teeth and gums, so both your oral health and your general health are in top condition. But did you know that a beautiful smile is an indication of a healthy smile, too? If there's something you'd like to improve or change about your smile, then talk to Dr. Sapienza. The cosmetic dentistry treatment you need may be only a phone call away.
Composite Tooth-Colored Fillings
When Park Slope cosmetic dentist Dr. Sapienza finds that one of your teeth has a cavity then he will want to repair that tooth as quickly as possible, because tooth decay can spread within a tooth as well as to other teeth. Fortunately, dental technology and materials have come a long way since the time when having a filling meant having a dark silver spot in your smile. Today, we use tooth-colored fillings made of composite resin to fill cavities. This material not only blends in with your natural tooth color, but also is stronger and more durable than a metal filling.
Porcelain Crowns
Sometimes decay can be so extensive or damage may be so severe that a tooth requires full coverage in order to have adequate protection. In these cases, your Park Slope cosmetic dentist will recommend a porcelain crown. Also called a dental cap, a crown snuggly covers a tooth from the biting surface, around the sides and down to the gum line. With a porcelain crown, your tooth will look and function as well as a healthy natural tooth.
Learn More About Porcelain Crowns
Porcelain Veneers
Let's say several different cosmetic flaws mar your smile. Perhaps you have a few teeth that are permanently stained. A few are chipped or broken, while still others are crooked or have unsightly gaps between them. Repairing each flaw would require a number of procedures… unless you choose porcelain veneers. With porcelain veneers, Dr. Sapienza can cover up your bothersome teeth and give you a completely new and beautiful smile. Veneers are micro-thin layers of dental porcelain that are expertly crafted in a dental lab. Dr. Sapienza carefully bonds the veneers to your teeth to give you a smile that is better than you ever imagined.
Learn More About Porcelain Veneers
Teeth Whitening
One of fastest, simplest and most cost-effective treatments for cosmetic dentistry in Park Slope is teeth whitening. At The Dental Spa of New York, we offer both in-office whitening and take-home whitening. With our in-office system, the whitening gel is applied to your teeth and in less than an hour you'll walk out of our office with a smile that is several shades whiter than when you walked in. This treatment is perfect for when you have a special occasion that demands your best smile.
Take-home whitening works just as well, but does require more time to develop your whitest smile.
Dr. Sapienza and the team at The Dental Spa of New York would be delighted to assess your cosmetic dentistry needs. The cosmetic dentist Park Slope trusts conveniently serves patients from the surrounding communities of Brooklyn Heights, Cobble Hill, Prospect Heights and Carroll Gardens and other areas of Brooklyn and Queens.
Learn More About Teeth Whitening
Understanding the Cost of Cosmetic Dentistry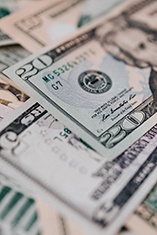 Misconceptions about the cost of cosmetic dentistry in Brooklyn cause many people to believe an attractive smile is not in their budget, but it's more affordable than you might realize. You have more options than ever to achieve the exact results you want using a method that won't break the bank. We strive to keep a beautiful smile affordable for everyone. We will help you find the solutions you need to revamp your smile without draining your wallet.
What Cosmetic Dental Service is Right For Me?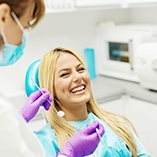 Everyone's mouth is different, just like your fingerprints. Not to mention, everyone has unique goals. Therefore, it's impossible to have a cookie-cutter treatment plan. Instead, Dr. Sapienza creates personalized strategies to achieve the exact results you desire. After examining your mouth and learning more about your concerns, Dr. Sapienza will explain all your options to achieve the smile of your dreams, which can include:
Tooth-colored fillings
Porcelain crowns
Porcelain veneers
Teeth whitening
He will review all your options to find the solution you need to accommodate your budget without compromising the results.
Cosmetic Dentistry Can Be An Investment Worth Making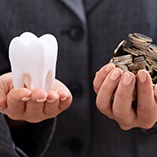 Cosmetic dentistry is an investment in your self-esteem and career prospects. Research has shown people with attractive teeth are viewed as being younger, successful, and intelligent. Correcting your cosmetic imperfections will give you a smile you'll be proud to show off to look and feel your best.
Believe it or not, cosmetic dentistry offers more than just aesthetic benefits. Some cosmetic issues can also affect your dental health, like chipped teeth, decay, or exposed tooth roots. Dr. Sapienza focuses on both the health and appearance of your smile to create stunning results that support your oral and general health.
How to Make Cosmetic Dentistry Affordable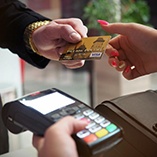 After assessing your smile, we will provide you with a personalized estimate. A member of our team will review the fees associated with your plan and discuss your payment options, including:
Traditional Payment Methods: Our office accepts all forms of traditional payments, including cash, checks, and credit cards.
Dental Insurance: Although it is rare for dental insurance to cover elective services, some cosmetic procedures offer restorative benefits. If a procedure is necessary for your oral health, like a tooth-colored filling or crown, you may be able to use your insurance to offset the cost. Dental insurance can cover up to 80% of the expense for common restorative procedures. If applicable, we will work on your behalf with your dental insurance to maximize your annual benefits.
Third-Party Financing: Pay for a picture-perfect smile using monthly installments through a third-party financing company, like CareCredit.
Rest assured, you will know exactly what you'll have to pay before committing to any treatment. You won't have to worry about any unexpected fees to feel confident about the road ahead. If you have any questions about your payment options, or you are ready to schedule your cosmetic consultation, contact our office today.
Cosmetic Dentistry FAQs
Cosmetic dentistry is a big investment, so it's normal to have a few concerns before you are ready to commit to any treatment; however, there's no reason to worry. Your cosmetic dentist in Park Slope, Dr. Sapienza, will explain everything to ease any apprehensions during your initial consultation. In the meantime, here are the answers to a few of the most common questions our patients ask us about elective procedures.
Which cosmetic procedures are right for me?
Everyone's smile is unique, and so are your goals, which is why we don't use cookie-cutter treatment plans. There isn't any way to determine the types of procedures you'll need until after examining your smile. Dr. Sapienza will create a personalized strategy to design the smile of your dreams using one or more procedures, such as:
Composite Tooth-Colored Fillings
Porcelain Crowns
Porcelain Veneers
Teeth Whitening
Can Invisalign fix bite problems?
Invisalign technology is effective in treating a variety of bite and alignment problems. Although every case differs, clear aligners can be used to fix many bite concerns, such as an underbite or crossbite. You'll require a thorough consultation to examine your orthodontic needs to determine if Invisalign in Park Slope is the ideal treatment for you.
Why are dental veneers so popular?
People from all walks of life are choosing porcelain veneers in Slope Park because they can cover several imperfections simultaneously. The thin shell quickly improves the color, size, and shape of a tooth to provide a quick transformation using a minimally invasive procedure. Thanks to new innovations in dentistry, modern veneers are thinner than ever to preserve the natural tooth structure while also delivering stunning results. Not to mention, they can last for a decade or longer with the proper care. Overall, they offer a lot of bang for your buck, which is why thousands of people choose veneers every year.
Does dental bonding look natural?
Dental bonding offers both restorative and cosmetic benefits because it looks natural when used to repair teeth. Dr. Sapienza uses a color guide to ensure the resin matches your teeth. It will blend in with your enamel, so no one will notice it's there. Be aware, the material can discolor when exposed to darkly pigmented foods and drinks or tobacco. It's best to avoid stain-causing factors to ensure your dental bonding continues to look its best.
Will teeth whitening ruin my teeth?
There are many myths about teeth whitening in Park Slope, but many aren't true. If you've heard whitening treatments can ruin your teeth, you don't have anything to worry about. Teeth aren't damaged when whitening systems are provided by a trained dental professional and performed on the ideal candidate. Modern whitening agents are specially formulated to resolve stubborn stains without harming your enamel. They are also less likely to cause any pain or sensitivity. Although the products are safe and effective, complications can occur from overuse. It's best to always see a dentist for teeth whitening to avoid compromising your smile.