Dental Bridges – Park Slope, NY
Natural-Looking Smile Repair
Millions of Americans are currently suffering through the problem of tooth loss. Not only do missing teeth destroy a smile, but they can potentially harm your health, too. Having one or more missing teeth can compromise your ability to enjoy a nutritious diet, including fresh fruits and vegetables. Missing teeth can also cause your remaining teeth to shift, resulting in a misaligned bite and temporomandibular joint disorder, or TMJ. Luckily, Dr. Sapienza has the perfect treatment – dental bridges in Park Slope. To learn more about how bridges can restore your smile and oral health, keep reading below, or give us a call.
What Is a Dental Bridge?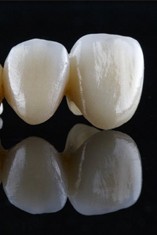 A dental bridge is a row of prosthetic (false) teeth attached to two abutment crowns, which are cemented to the two teeth on either side of the gap in your smile. Made of dental porcelain, or a strong nonmetal material like zirconia, modern dental bridges are stronger and more lifelike than ever.
Am I a Candidate for a Dental Bridge?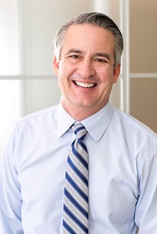 In order for you to truly benefit from bridgework, you must be missing one or more teeth consecutively. In addition, the teeth on either end of your gap should be free of decay, and your gums should be free from gum disease. If either of these issues are present, we must treat them before your bridge can be placed.
The Dental Bridge Procedure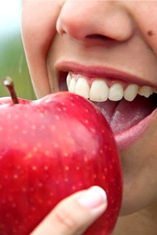 First, we will prepare the teeth that will house the crowns by either building them up or removing a small portion of enamel. Then, we'll take an impression of your teeth to form a model that our dental lab will use to create your bridge. While your permanent bridge is being fabricated, you'll wear a temporary that we can make right here at The Dental Spa of New York. When your permanent prosthesis is ready, you'll return to our office to have the bridge fitted and bonded into place.
Benefits of Dental Bridges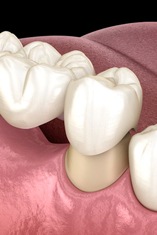 Dental bridges offer a variety of advantages over simply suffering through having missing teeth, such as:
Allowing you to smile confidently once again
Restoring your ability to properly chew
Improving your speech and pronunciation
Maintaining the shape of your face
Evenly distributing the force of your bite
Preventing your remaining teeth from shifting out of their proper position
If you have missing teeth, let Dr. Sapienza, his trusted lab, and the gentle team at The Dental Spa of New York restore your smile with lifelike bridgework.