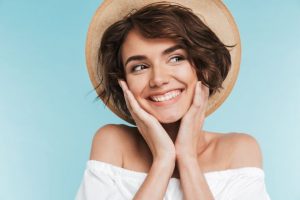 Want to go through 2019 with a smile on your face? Your cosmetic dentist in Park Cities can help. Options to consider include teeth whitening, ceramic inlays and onlays, and nighttime mouth guards. Your cosmetic dentist will work with you to choose the perfect solution for your needs.
Whiter, Brighter Teeth in One Visit
The most basic service your cosmetic dentist offers is prescription teeth whitening. Please don't confuse this with ineffective over-the-counter products you may have seen advertised. Your dentist in Park Cities has access to formulas that provide superior results in as little as one visit.
Prescription teeth whitening works by applying a gentle solution to your teeth while you relax. A dental professional will check the results after about 20 minutes and reapply the product if needed.
Most patients are able to attain their smile enhancement goals in an hour to an hour and a half. The benefits typically last for 12 months, during which you can show off your new and improved smile to the world.
Dental Veneers
Want to have a Hollywood celebrity smile? Dental veneers make it possible. These are micro-thin layers of medical-grade porcelain that bond directly to the front of your teeth. Veneers erase the evidence of stains, discoloration, cracks, unevenness, and other common aesthetic issues. The result is a beautifully symmetric smile in as little as two visits.
Ceramic Inlays and Onlays
Ceramic inlays and onlays are an aesthetically appealing alternative to traditional fillings. This approach uses a tooth-colored material to not only fill the cavity but re-create the look of the original tooth in its healthy state.
Modern ceramic materials are not only more attractive than metal fillings, they also work better with the surrounding tissue, providing both cosmetic and restorative benefits.
Nighttime Mouthguards
Tooth grinding, also known as "bruxism," is more than a cosmetic dental problem. It can cause headaches, back and neck pain, and physical damage to the affected teeth.
Your cosmetic dentist can help by prescribing a nighttime mouthguard. Not only can this improve the appearance of your smile, it can help you to enjoy a better night's sleep as well.
Options for Restoring Missing Teeth
Your smile will never look its best if you're suffering from missing teeth. Fortunately, your cosmetic dentist has many ways to treat this condition, including bridges, crowns, dentures, and implants. The benefits include not only an enhanced smile but restored functionality and a happier, healthier life.
Digital Smile Preview
Modern technology makes it possible to see what you'll look like after your procedure. Simply send a digital image of your smile to a qualified cosmic dentist and he or she can create an "after" picture for your review. It's the ultimate "try before you buy" solution.
In this post we've only scratched the surface of this exciting topic. Make an appointment with your dentist in Park Cities soon to learn more about your cosmetic dentistry options. You'll soon have plenty of reason to smile.
 About the Author
Dr. Frank J. Sapienza is a second-generation dentist who has been creating beautiful smiles for more than 30 years. A graduate of the New York University College of Dentistry, he brings a patient-centered approach to every aspect of his Brooklyn practice. You can reach his office online or by calling (718) 965-6298.