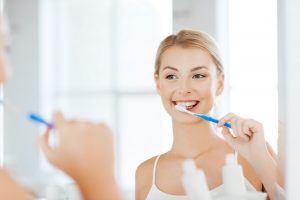 If you're insecure about chips, cracks, or discoloration, you can have a flawless smile with porcelain veneers. Thin shells are bonded over the fronts of your teeth to hide a variety of imperfections simultaneously. Your picture-perfect smile can last for 10 years or longer if you commit to maintaining your veneers, like brushing and flossing. Although veneers can't get cavities, your oral hygiene is more important than ever. Here's what you need to know to keep tooth decay at bay to safeguard your investment.
Cavities are Possible with Veneers
Veneers are applied to the front surfaces of your teeth to improve their color, size, and shape. They'll create a barrier between your enamel and cavity-causing bacteria: however, veneers don't cover the entire surfaces of your teeth like dental crowns. As a result, any exposed enamel is still vulnerable to decay. Not to mention, cavities can occur around the edges of your veneers, causing them to fail.
Although tooth decay is the most common oral health issue, it's preventable. However, you'll need to make a few changes at home to ensure you don't damage your veneers while combating cavities.
Maintaining Porcelain Veneers
Veneers are proven to last for a decade or longer with the proper care. You can keep your smile cavity-free and get the most from your investment by following a few tips:
Choose the Correct Dental Products: Abrasive dental products can scratch veneers, making them look discolored and trapping plaque. Use a soft-bristled toothbrush and nonabrasive toothpaste. Don't forget to look for the ADA's Seal of Acceptance.
Follow a Solid Oral Hygiene Routine: Brush your teeth at least twice daily for 2 minutes each session. Floss between every tooth daily and use an antimicrobial mouthwash to kill anything bacteria lingering in your mouth.
Watch What You Eat: Moderate your consumption of sugary foods and drinks to lessen your risk of tooth decay. Your dentist will also recommend skipping hard and sticky foods to prevent damaging your veneers.
Visit Your Dentist: Schedule a cleaning and checkup with your dentist every 6 months for a cleaning and checkup. They'll keep your smile clean and monitor for any weakened enamel to intervene quickly. They'll also check your veneers at each appointment to promote their lifespan.
Don't Smoke or Drink Alcohol: Tobacco and alcohol are known to increase the risk of tooth decay. Smoking can also stain your enamel, causing your veneers to look discolored.
You can have the healthy, beautiful smile you desire with veneers. Good oral hygiene habits and a healthy lifestyle will ensure the smile of your dreams lasts for years by keeping it cavity-free.
About Dr. Frank J. Sapienza
Dr. Sapienza achieved his dental degree from the New York University College of Dentistry and regularly pursues continuing education. He has qualifications in many advanced services, like cosmetic dentistry. Dr. Sapienza combines the art and science of dentistry to create stunning smiles. If you're ready to improve your teeth, contact our office today to request your consultation.