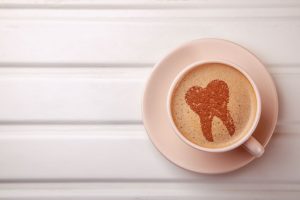 Having a tooth extraction is a procedure like any other that requires appropriate aftercare to ensure you recover as fast as possible without complications. That means following the dentist's orders in regard to diet after your surgery. If you're like many others who rely on a daily cup of coffee just to get moving, you might have some questions. Is it safe to drink coffee after a tooth is removed? Keep reading to learn more about whether you need to wait!
Does Coffee Interfere with Recovery After a Tooth Extraction?
There are complications that can arise after this kind of procedure and one common issue is dry socket. Typically, after a tooth extraction, your body forms a blood clot over the wound. It protects the sensitive bone tissue and nerves underneath your now-missing tooth. If for whatever reason the clot dislodges, then those vulnerable spots are exposed which can cause pain in addition to slowing your healing process.
Hot drinks, like coffee, are unfortunately known to displace this clot, or even keep it from forming in the first place. This is because caffeine causes your blood vessels to enlarge, which results in increased bleeding. You'll have to resist making that pot of coffee, especially immediately following your surgery.
What's Safe to Eat or Drink After a Tooth Extraction?
Your body needs nutrients to mend itself, and that means it's important to eat, even if you're missing a tooth! After your surgery, you can safely enjoy:
Soft and bland foods. Eggs, mashed potatoes, cottage cheese, yogurt, and soups are easy to eat and are less likely to dislodge the blood clot.
Water. Staying hydrated is essential for recovery and that means drinking plenty of water. Remember, though, not to drink from a straw. The force of the suction can also dislocate the clot.
How Long Should I Wait Before I Can Drink Coffee?
A lot of people rely on their daily dose of coffee and wonder how long they must wait after a tooth extraction to indulge. A good rule of thumb is to avoid anything hot for at least 48 hours. That could be good news for fans of cold brew! It's possible that you can enjoy chillier beverages after only 24 hours. Sometimes, the cool liquid can even provide some temporary relief if you're feeling swollen or uncomfortable.
If you prefer to err on the side of caution, plan to wait a full 5 days before treating yourself to your favorite fuel. Your dentist may have provided different instructions about when it's okay to resume eating and drinking normally, though, so be sure to follow their orders.
If you feel like you just can't wait for your next hit of caffeine, hang in there! Your dentist wants what's best for your oral well-being so it's important to abide by their instructions carefully. This ensures you'll heal quickly and efficiently, which means you'll be all the closer to your next, glorious cup of coffee!
About the Author
Dr. Frank J. Sapienza is a second-generation dentist who has been improving peoples' smiles for more than 30 years. He graduated from the New York University College of Dentistry in 1985, then worked alongside his father until opening The Dental Spa of New York. Our caring team uses state-of-the-art technology and prefers non-invasive methods, if at all possible. We offer both local anesthesia as well as sedation options so that you can feel calm and comfortable throughout your procedure. If you'd like a consultation, you're welcome to request one on our website or by calling (718) 965-6298.