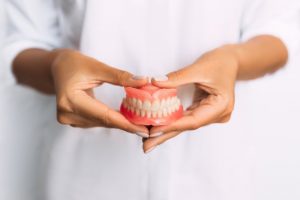 Bulls get angry when they see the color red. You'll get cramps if you go swimming right after you eat. The Great Wall of China is the only manmade structure visible from space. A penny dropped from the top of the Empire State Building could kill someone. While you may have heard at least one of the aforementioned statements before and accepted it as fact, those are all myths. On a similar note, despite millions of Americans relying on them, there is no shortage of denture myths out there. Read on as your dentist in Park Slope debunks some of them.
Myth: I Can Wear My Dentures All Day and Night
Fact: You can only wear them day and night with implant-supported dentures. Otherwise, you need to soak your dentures overnight. That way, your gums get a chance to relax without pressure applied to them. If you didn't give your mouth a rest, your gums could become sore and swollen.
Myth: Dentures Aren't Custom-Made
Fact: Customization is a requirement because no two mouths are the same. Like snowflakes, each human mouth is unique so dentures must be customized. With high-quality dentures, both the fit and appearance of the teeth are fully made to order. Even though cheaper dentures might not be custom-made, their fit is still based on impressions of your particular mouth.
Myth: Dentures Are Unattractive
Fact: High-quality dentures look real. Top-tier dentures use high-quality materials and utilize neuromuscular principles so that they enhance your teeth and even your entire face. Dentures support facial features to provide plumper lips and cheeks, fewer wrinkles around the mouth, and less loose skin under the chin. If you settle for cheap dentures, they aren't customized to compliment your facial features.
Myth: Dentures Last a Lifetime
Fact: Dentures are temporary appliances and last 5-10 years with proper care. Even quality dentures eventually wear out because of the constant biting and chewing forces. With cheap dentures, there is the risk of a poor fit that can lead to accelerated wear or the potential for them to break. However, some high-quality implant dentures can last 30 years or more.
Myth: You Have to Use Adhesive with Your Dentures
Fact: If you get dentures that fit properly, you may not have to use denture adhesive at all. The adhesive works like glue, but it's fragile in a good way because you want to be able to remove the dentures. Also, the adhesive helps maintain the seal between your gums and dentures – improving the suction that holds dentures in place. High-quality dentures can offer a tight fit that does not require adhesive.
About 35 million Americans have no teeth, and roughly 90 percent of those people count on dentures. As you've learned after reviewing just a few of the many denture myths, the quality of the dentures you get means everything. If you've been considering full dentures, partials, or maybe even implant dentures, your next step is to schedule a consultation with your dentist in Park Slope where they can give you all the facts to make an informed decision!
About the Author
Dr. Frank Sapienza has been creating beautiful smiles for more than 30 years. He earned his dental doctorate from New York University and is a member of the American Dental Association. Dr. Sapienza strives to bring patient comfort and clinical excellence to patients throughout the greater New York City area. If you are interested after learning these debunked denture myths, he offers partials, full dentures, and implant dentures. Schedule a consultation on his website or call (718) 965-6298.