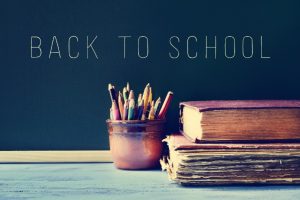 Here we are again – another summer is almost over and it's time to think about preparing for a new school year. Many parents have a long to-do list that includes everything from shopping for school supplies to buying new shoes. But you may have forgotten one task that can make the upcoming year run a lot more smoothly: scheduling a checkup with a dentist in Park Slope. Learn more below about the many ways checkups keep your child's smile on track and why it's so helpful to schedule now, before the first day of class!
The Importance of Checkups For Your Child's Smile
By scheduling a checkup before the year becomes too hectic, you'll minimize the chance of dental problems developing later on when there's less time to deal with them. Here's how checkups ensure that your child's smile stays healthy:
Oral hygiene tips– After having their teeth cleaned, kids will get individualized help with their oral hygiene habits. Many children get out of their normal brushing and flossing routine over the summer, so getting a few reminders from their dentist is just what's needed to establish better habits.
Sealants– These clear, thin coatings block cavity-causing bacteria from getting into the grooves of the back teeth. Unfortunately, even good brushing can't always prevent cavities in these areas, making sealants a great option.
Fluoride treatments– Professional fluoride treatments take just minutes at the end of a checkup to strengthen a child's enamel and prevent tooth decay.
Athletic guards– Serious injuries such as knocked-out teeth and concussions can be prevented with a custom-made mouthguard. In fact, studies have shown that these types of guards are thicker and more protective than store-bought varieties and also fit much more comfortably.
Prevent dental emergencies – By making sure your child doesn't have any small cavities or other issues that need to be addressed, you can prevent bigger problems later on such as toothaches.
Why Is Back-To-School Season the Perfect Time To Schedule?
Once school starts, your family's schedule will consist of waking up early, homework at night, and endless after-school activities. Making sure your child has good oral health as school starts is your best bet for avoiding major dental work down the road when things are much busier.
By getting a routine checkup now, you'll feel great knowing your child is heading into the school year with a healthy smile!
About the Author
Dr. Frank Sapienza  is a second-generation dentist and a graduate of the New York University College of Dentistry. He knows that being proactive before school starts is a great way to prevent dental problems and always encourages families to schedule at this time of year. If you have any questions or want to schedule a checkup, he can be contacted via his website.