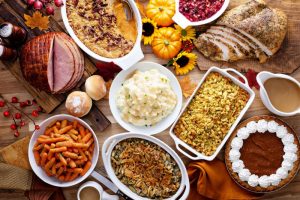 Dentures are a wonderful solution for many people who have suffered tooth loss. They bring the confidence that comes with a complete smile and the ability to eat a range of foods. And nothing brings a spread of delicious meals and snacks like the holidays! While there are so many seasonal treats you can enjoy due to your prosthetic, there are some that cause problems with your dentures. Here are five foods to avoid during the festivities to keep your pearly whites safe.
#1. Tough Meats
While meats require quite a bit of chewing, tough ones can cause more undue stress on your dentures. For example, well-done steak, beef jerky, and pork chops could cause your prosthetic to dislodge. This could also result in sore spots on your gum tissue. Luckily, turkey is a holiday food that would be a better choice! Additionally, tender chicken and fish are great alternatives for your dentures to ensure receiving enough protein in your diet.
#2. Sticky or Hard Treats
Treats are a big part of holiday celebrations. Goodies like caramel and peanut brittle are certainly tasty, but they can be tough to chew with replacement teeth. They tend to loosen the suction between your denture and gums, which can lead to food particles can getting trapped underneath your dentures or implants. If you fail to remove these harmful substances, it can cause bacteria buildup and irritated gum tissue.
#3. Raw Vegetables and Fruits
It is common knowledge that vegetables and fruits are full of nutrients that keep you healthy. But if you wear dentures, there will need to be some adjustments made if you eat them during the holidays. Raw veggies and fruits are crunchy, which can cause your prosthetic to shift or become loose. They can even cause damage to it. If you dig into any of these snacks, you can eat them steamed or baked so they are softer.
#4. Hard Nuts
Nuts are often set out as something to nibble on while visiting loved ones during the holidays. While delicious and healthy, biting down on them can damage your dentures and cause pain. The tough, small pieces can get stuck underneath your false teeth and keep them from fitting properly. Therefore, if you want to protect your dentures and gums, consider eating softer snacks like olives!
#5. Popcorn
In general, popcorn is not bad for your teeth; you just must watch out for the unpopped kernels! These pesky things can get stuck in your teeth or under your restoration, both of which can be very painful. Eating hard kernels can damage your dentures by cracking or compromising them. Instead, enjoy some airy crisps or cheese puffs!
Your prosthetic has given you back your pearly whites and the ability to eat a range of foods, even during the holidays. Just be mindful of certain foods so your complete smile can last for years to come!
About the Author
Dr. Frank Sapienza and his team The Dental Spa of New York serve Brooklyn and the surrounding areas. He earned his Doctor of Dental Science from the New York University College of Dentistry and is an active member of the American Dental Association. With over 40 years of experience, he can help you with any of your prosthetic needs, whether you have full, partial, or implant dentures! To schedule an appointment, contact him through his website or call (718) 965-6298.