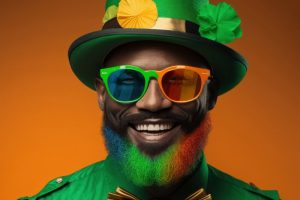 St. Patrick's is a popular holiday that many people look forward to in March. The fun of the parades and celebrations with friends guarantees a day full of fun. However, the luck of the Irish is not always with all the smiles on this special day! Many dental offices have an increase in dental emergencies the day after St. Patrick's Day. Here are four tips to keep your smile whole and healthy while you celebrate.
Tip #1: Avoid the Green Beer
On this festive holiday, there is one main theme: everything is green! While you want to wear your best emerald-colored clothing, it's best to avoid drinking green beer. It can be appealing during the festivities, but it's not so great for your pearly whites. Since this beverage is made with heavy food coloring, your teeth could end up going from white to a dark shade of green. While it's not likely to permanently stain your smile, consuming green beer along with other dark drinks like red wine and coffee, can dull the pigment of your enamel.
Tip #2: Limit Your Snacking
As with most celebrations, food is always a big part of St. Patty's Day. During the festivities, there will be many treats, including mint chip pudding, charcuterie boards, and other delicious appetizers. However, grazing throughout the whole day can lead to cavities by constantly exposing your teeth to food particles. And you are not likely to stop having fun to go brush your teeth. It's best to stick with well-balanced meals throughout the day. If you can't resist some of those yummy snacks, try to enjoy them as an appetizer close to your meal.
Tip #3: Stay Hydrated
Did you know alcohol causes your mouth to become dry? When your mouth is not hydrated, it gives bad bacteria a chance to grow and cause tooth decay. By drinking plenty of water, you'll constantly get your saliva to activate, which is essential for washing away food particles and bacteria. Rinsing off any enamel-attacking acids can help your smile remain healthy and fresh as you enjoy the day.
Tip #4: Remember the Steps for a Dental Emergency
As stated above, if the luck of the Irish isn't with you on St. Patrick's Day, an unexpected dental event can happen when partying too hard. Accidents can happen so the key is to be mindful of tips that help minimize the damage. If you or someone you know gets a tooth knocked out, remember to:
Pick the tooth up by the chewing side, not the root.
Gently rinse it with water.
Try placing the tooth back in its socket.
If the tooth doesn't stay in the socket, keep it moist with milk or in the mouth between the cheek and gum.
Visit an emergency dentist as soon as possible.
Remember, you can still have a blast on St. Patrick's Day but don't put your oral health at risk. By being mindful of these tips, your smile will remain whole and healthy!
About the Author
Dr. Frank Sapienza and his team at The Dental Spa of New York keep the smiles of Brooklyn whole, healthy, and bright! He earned his Doctor of Dental Science from the New York University College of Dentistry and is an active member of several professional associations, including the American Dental Association. With over 40 years of experience, he can help you with any unexpected issue with your teeth. To schedule an appointment, contact him through his website or call (718) 965-6298.