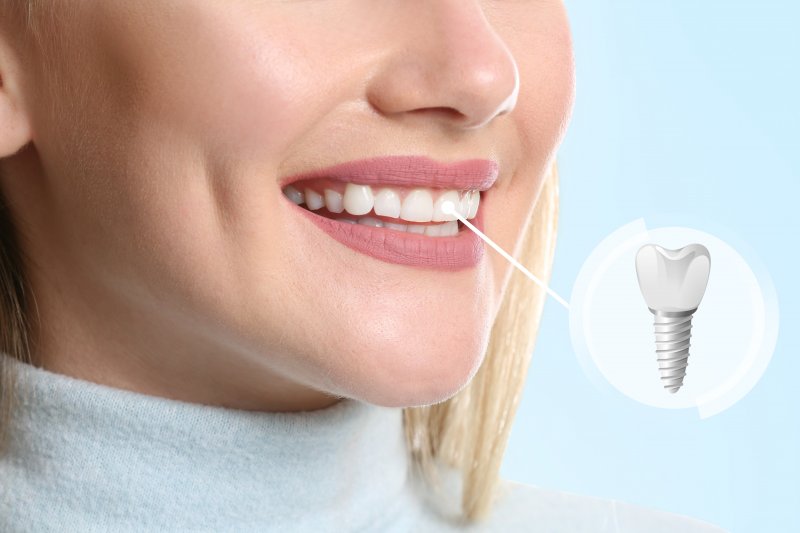 Your charming smile can make a striking first impression. For some people who are missing teeth, showing off your pearly whites can seem daunting and embarrassing. Luckily, dental implants are a long-lasting solution to this problem and can have you smiling in no time. Getting dental work done is nothing to be ashamed about. In fact, taking the initiative to better your oral health is something to be proud of. Here are some reasons why you shouldn't feel embarrassed about getting dental implants.
What are Dental Implants?
Getting dental work done can feel like a big leap to anyone, but don't let this dissuade you from getting back your smile. According to the American College of Prosthodondists, dental implants are the first choice treatment for missing teeth, with a high success right of 98%.
A dental implant is a tooth replacement method consisting of a titanium implant and a dental crown that function as a natural tooth. Dental implants can be used to replace multiple missing teeth at once when paired with a bridge or denture. The implant is surgically put in the jawbone first, and you are given a provisional crown. After a process known as osseointegration, the implant fuses with your bone and tissue and acts as a natural tooth root. Then, your dentist will change out your provisional crown for a permanent one. Just like that, your implant is done and matches the luster of your natural teeth!
How Can Dental Implants Benefit My Oral Health?
The impact dental implants can have on your oral health far outweigh any embarrassment you might feel about having missing teeth. Here are some benefits dental implants give you:
Prevents your jawbone from shrinking due to bone loss
Preserves the health of surrounding bone and gums
Provides stability for adjacent teeth
Restores your ability to chew
Enhances the appearance of your smile
Improves your quality of life
Why Should I Get Dental Implants?
If you have lost one or more teeth and prefer not to wear dentures, dental implants may be the tooth replacement option for you. Missing teeth can lower your confidence, but you shouldn't have to feel embarrassed about your smile. Dental implants can give you back your smile without the worry of your new teeth shifting out of place, which can sometimes happen with dentures.
Dental implants last a lifetime. If you keep them clean and stay up to date with your annual checkups, you shouldn't ever need to replace them. After getting your dental implants, you'll be able to enjoy your favorite foods without any worry for many years to come.
Another reason to get dental implants is that your replacement teeth cannot get cavities. Of course, you should still visit your dentist regularly for your professional cleanings, but since implants are not real teeth, issues that might happen with the natural tooth can be avoided.
If you're feeling embarrassed about missing teeth, know that you have nothing to be ashamed of. Dental implants can bring you back your confidence and restore your oral health.
About the Practice
Dr. Frank J. Sapienza of The Dental Spa has been dedicated to providing the Brooklyn community with quality dental care for more than 30 years. He offers a variety of procedures and continues to pursue training in all aspects of dentistry. If you are interested in learning more about how dental implants can help revitalize your smile, you can contact The Dental Spa by their website or by phone at (718) 965-6298.