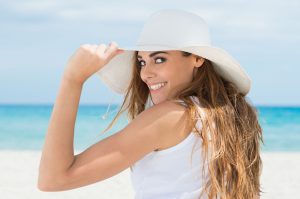 Are you missing one or more teeth? If so, you've probably been looking into ways you can recreate your old smile. Modern dentistry has plenty of solutions available, but thanks to their unique benefits, dental implants are quickly becoming the most popular choice. In fact, more than 500,000 people get them every year! Plus, now is the best time of year to begin the process. Read on to learn four reasons why summer is the perfect time to get dental implants.
1. Have a Camera-Ready Smile
Most people look forward to spending time in the warm summer sun with family and friends. If you have gaps in your grin, though, you might feel self-conscious about being around others, especially when someone whips out their phone to snap a photo. Fortunately, dental implants look and feel exactly like real teeth. Instead of shying away from the camera, you'll have the confidence to flash your new pearly whites!
2. Enjoy a Set of Teeth You Can Trust
A lot of delicious summer staples, like steak, ribs, and corn on the cob, can be frustrating, embarrassing, or downright impossible when you have missing teeth or a poorly fitting denture. Dental implants, on the other hand, are firmly embedded in the jaw, just like the roots of natural teeth. Not only does this help them stay in place, but they also deliver chewing power that dentures and dental bridges simply cannot. With dental implants, eating your favorite summer foods will be a breeze.
3. Take Advantage of a More Flexible Schedule
Getting dental implants requires several visits with your dentist. While it can be difficult to find time for these appointments for most of the year, things tend to slow down in the summer. You should have plenty of time to fit these visits, as well as a few days for recovery, into your schedule.
4. Prevent Health Issues
Teeth naturally push against the ones on either side. So, if even one is lost, the others drift in an attempt to fill in the gap themselves. This is more than just a cosmetic issue – it may cause difficulty chewing as well as the need for lengthy orthodontic treatment in the future. Dental implants are also the only form of tooth replacement that stimulates the jawbone, preventing the bone loss that often occurs after teeth go missing. By getting dental implants as soon as possible, you'll not only preserve your remaining teeth, but you'll also maintain a youthful glow by preventing jawbone deterioration.
Complete Your Smile Today!
Don't suffer through the inconveniences of missing teeth any longer. There's no time like the present to start rebuilding your smile! Call your dentist to find out how dental implants can benefit you.
About the Author
Dr. Frank J. Sapienza is a cosmetic dentist in Park Slope, NY with 30+ years of experience in the field. He earned his Doctor of Dental Surgery degree in 1985 from the prestigious New York University College of Dentistry. He partners with local dental implant specialists to ensure his patients enjoy lifelike replacement teeth. To get started on completing your smile with dental implants, visit his website or call (718) 965-6298.