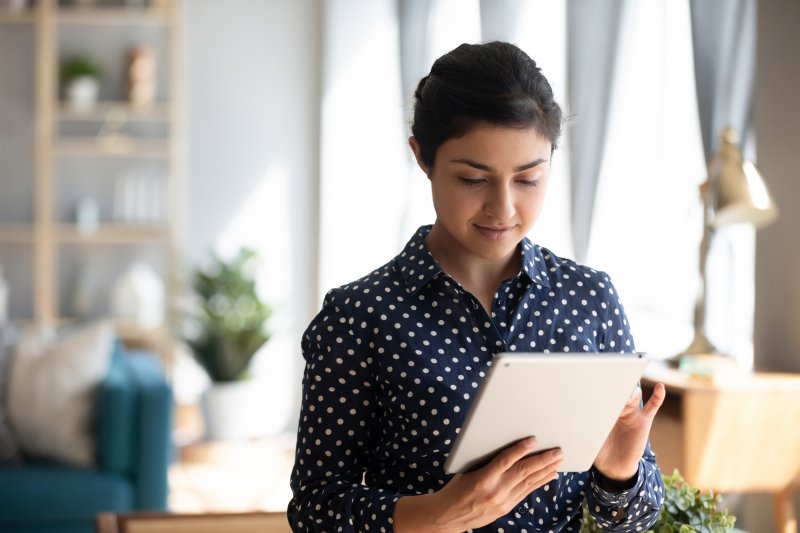 Limiting social contact is a crucial component of slowing down the spread of the COVID-19 virus. Most people are quarantining and social distancing as much as possible. However, despite the virus, life stills goes on and things come up. If you're having a dental concern that you want diagnosed during the pandemic, but would still like to keep social distancing, teledentistry may be the solution for you. Learn more about the benefits of teledentistry from your Park Slope dentist.
How Does It Work?
When you set up a virtual appointment with your dentist, you'll be able to converse with your dentist on your computer or smartphone. They'll ask you questions about your situation, go over your concerns, and will look at your current dental records and any pictures they ask you to take. From there, they will be able to provide their diagnosis and thoughts on the best plan of action.
They may decide that at-home treatment is best for you and provide you a prescription right over the computer. This will save you an extra trip to your GP to pick up the prescription in person.
If they deem you to have a dental emergency, you will still have to go into the office. Fortunately, dental offices are taking very strong sanitation measures during the pandemic to ensure that you will have a safe, efficient visit. Since many dental practices are only taking emergency patients currently, they will likely be able to see you that very same day.
Benefits of Teledentistry
Teledentistry is a great option for limiting the spread of germs while still getting an expert diagnosis. Due to the pandemic, many insurance plans are providing coverage for virtual appointments. It is perfect for dental situations that arise suddenly as well as things like periodic checkups for orthodontic patients.
Virtual appointments are on the rise worldwide and won't be going away any time soon. They are an excellent tool for limiting the spread of bacteria while still receiving expert care. Many countries have started to use teledentistry to reach out to rural and underserved communities that might not otherwise have access to dental care. Additionally, it can be a helpful tool to avoid crowds if you live in a densely populated area. If you have any dental questions during quarantine, don't hesitate to schedule a virtual appointment with your dentist.
About the Author
Dr. Frank J. Sapienza has spent more than 30 years caring patients in his community. After graduating from the New York University College of Dentistry, he has pursued hundreds of hours of additional training in all facets of dentistry. He is a member of multiple dental societies, such as the American Dental Association and the Dental Society of the State of New York. If you have a dental concern you'd like addressed, Dr. Sapienza and his team at The Dental Spa of New York would love to set up a virtual appointment with you. Simply call their office at (718) 866-4742 or send them an email.