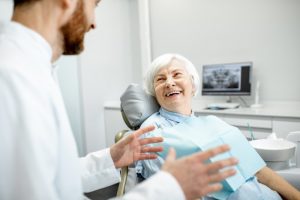 When dentures fit properly, you can smile without even needing any denture adhesive. Even so, some people enjoy the added security of using adhesive anyway, since it prevents small movement of the dentures within your mouth and food particles from becoming trapped, which can cause irritation and bad breath.
It can be hard to choose just one type of adhesive if you find the options overwhelming. Here's some info on the three main varieties from your dentist in Brooklyn so you can choose which one is the best fit for your denture needs.
Denture Adhesive Strips
These are utilized by cutting provided strips to the correct size and laying them over your dentures. Once they are attached, you can place your dentures in your mouth and the strips should help to provide a strong grip to your gums. These generally receive positive reviews, but they can be a bit pricier than the alternative options.
Denture Adhesive Powders
Powders are an excellent alternative to creams. They can hold dentures firmly in place for up to 12 hours. This way, you can speak, eat, and smile with confidence throughout the day. Start by dampening your denture plates. This will give the adhesive a moist surface to secure to. Then, put the powder on the plate. You can either cover the whole surface with a sprinkling of powder or just put it in areas that are a bit loose. The saliva in your mouth activates the powder and makes it sticky so it can hold the denture into place. These can be slightly messier than other options, but they are still highly effective.
Denture Adhesive Cream
These creams are sold in a tube and can seal out approximately 75 percent of food particles. To use it, you just apply the denture adhesive cream in short strips on the undersurface of your dentures. Press and hold them into place, and then bite down to firmly secure the hold on your gums. This type of adhesive can hold all day by forming a thin strong layer to prevent gum irritation and comes in zinc-free formulas. The most common complaint about this option is that it can ooze if you accidentally apply too much of it.
No one wants their dentures to be shifting around in their mouth. Fortunately, there are several adhesive options to choose from so you can try each one and find the variety that works best for you!
About the Author
Dr. Frank Sapienza has been creating beautiful smiles for more than 30 years. He earned his dental doctorate from New York University and is a member of the American Dental Association. Dr. Sapienza strives to bring patient comfort and clinical excellence to patients throughout the greater New York City area. If you are interested in dentures, he offers partials, full dentures, and implant dentures. To schedule a consultation, you can visit his website or call (718) 965-6298.